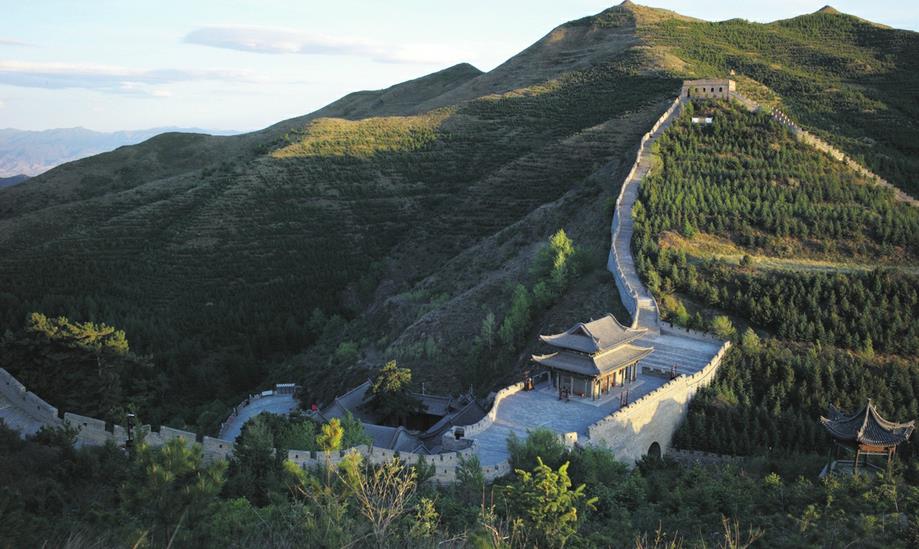 A section of the Great Wall is restored according to its original style. YANG JIANMIN / FOR CHINA DAILY
The construction of the Great Wall,the greatest defense project of ancient China,is said to have begun in the Warring States period(475221 BC)and have ended some 400 years ago during the Ming Dynasty(13681644).
Construction of the wall is still under way in Pianguan county in the northwest of Shanxi province.But the purpose of this stretch of the project is not for defense.Rather,it's to protect the Great Wall as a cultural heritage of the nation and a major attraction to tourists.
"Pianguan is a prominent county in China in terms of Great Wall resources,"said Gao Yongsheng,head of the county's information office.
The county boasts six walls built during the Ming Dynasty and several others built in earlier periods dating back to Qing Dynasty(221207 BC).There are also 22 fortresses and strongholds built during various periods.
Gao said the most renowned stronghold of the walls is the Pianguan Pass.
The stronghold is located in the north of the county seat.It can be easily recognized even miles away because of its tall,imposing gate tower.
The tower is a Mingstyle structure.It's so similar in style with its neighboring structures that visitors may not be aware it was actually built only nine years ago.
Before the construction of the gate tower in 2011,the designers and civil engineers had visited other sections of the Great Wall for several years to study,measure and survey the remaining structures on the walls to ensure the new tower could keep its original style,according to Wang Yuan,Party secretary of the county.
The county has also repaired and restored sections of the Great Wall across the city.
"Our research shows that about two thirds of the materials used to build the walls in ancient times are a kind of stones unique in Pianguan.Fortunately we still have enough reserves of the materials that can be used for the repair,"Wang explained."The remaining one third of materials are bricks fired from local ground so we can also used the similar bricks made according to ancient techniques."
The official said in ancient times when soldiers arrived in Pianguan,their first mission was to repair and enhance the Great Wall,making it a strong defense project to defeat the invaders.
"We are still renovating the walls today,with the hope of better preserving the precious historical legacies of our nation,"Wang said.
Li Yali contributed to this story.
By YUAN SHENGGAO
(责编:张婷婷、常慧忠)