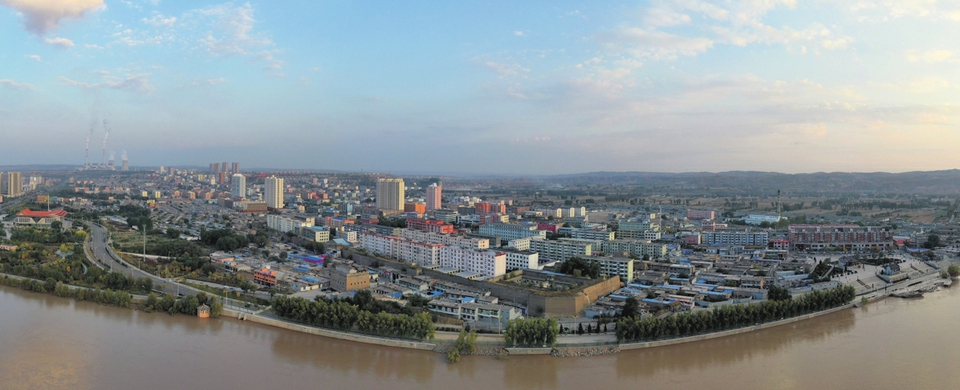 The ancient Xikou Ford has developed into a prosperous city that now serves as the county seat of Hequ. MA LIMING / FOR CHINA DAILY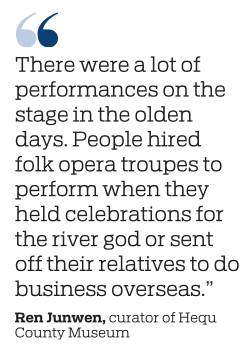 Xikou, or Western Pass, is one of the most storied places in Shanxi, being a symbol of departure when the ancient Shanxi merchants or Jinshang started their northwestward trips to regions afar.
Shanxi has been known for its historical commercial tradition developed by the famed Jinshang businesspeople. It is said Shanxi's merchants dominated commercial circles in North China for about 500 years since the Ming Dynasty (1368-1644).
However, many of these successful merchants started as small vendors wandering outside Shanxi, with their travels extending as far as Russia.
As the Western Pass was always their last stop in Shanxi, it has stood as a silent witness to farewells between merchants and their loved ones.
The pathos of departure has touched the hearts of many Shanxi locals through the popular folk song Out of the Western Pass, with lyrics that go:
"When you started your trip out of the Western Pass, my dear, I know there's no way to hold you back…"
However, it might be an effort in vain for any tourist to find where the exact location of the Western Pass is.
In the northwest of Shanxi, a number of Great Wall passes and several ferry crossings along the Yellow River are claimed to be the Western Pass.
The ancient Xikou Ford by the Yellow River in Hequ county is one of the claimed legendary locations.
The history of the Xikou Ford can be traced back to the Han Dynasty (206 BC-AD 220) and its ferry service business flourished in the Ming and Qing (1644-1911) dynasties with the prosperity of Shanxi merchants, who used it as a major hub for cargo transportation, according to Ren Junwen, curator of Hequ County Museum.
With the development of modern transport means like highways and railways, Ren said the ferry business was put to an end decades ago, leaving the ford and its neighborhood as a large park for local residents to relax in.
At the center of the park is the River God Temple built in the Ming Dynasty, with an opera stage standing opposite its entrance.
"There were a lot of performances on the stage in the olden days. People hired folk opera troupes to perform when they held celebrations for the river god or sent off their relatives to do business overseas," Ren said.
There are Qing Dynasty murals on the walls of the temple, describing the local customs.
One picture on a wall depicts the tradition of floating lanterns on the river to celebrate Zhongyuan Festival.
Zhongyuan, celebrated on the 15th day of the seventh lunar month, is a festival paying tribute to deceased family members and ancestors.
"People set the lanterns afloat on the river and watch them float afar, as if seeing off their beloved ones on a trip with no return," Ren said.
By YUAN SHENGGAO
(责编:麻潞、常慧忠)