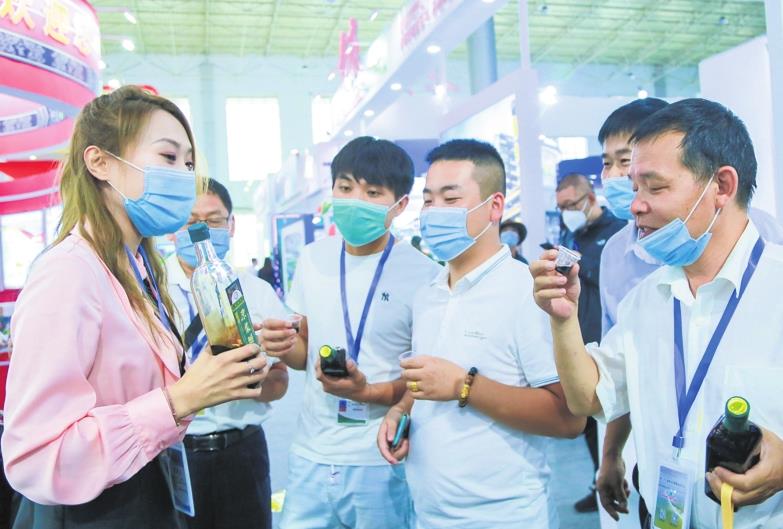 A woman representing a vinegar company in Shanxi talks to local buyers during the Qinghai Investment and Trade Fair for Green Development. CAI JINFENG/FOR CHINA DAILY
During the 21st Qinghai Investment and Trade Fair for Green Development held between July 23-26 in Xining, the capital city of Qinghai province, exhibits from Shanxi were among the most eye-catching.
According to Zhang Baomin, deputy chief of the Shanxi Bureau for Investment Promotion, more than 300 products were displayed at the province's pavilion.
"The Shanxi pavilion covered about 240 square meters, the largest display area for Shanxi in its 21-year presence at the fair," Zhang said.
Shanxi's exhibits included not only its famed produce like mature vinegar and herbal tea, but products from its cutting-edge industries.
These included recombinant human-originated collagen III protein, a crucial product for post-surgery recovery; broadsheet super-thin stainless-steel foil that can be used in the fields of aerospace, electronics and petrochemicals; augmented reality headgear; and bio-based polyamide clothing.
Also on show were videos and photos of Shanxi's latest development, key industries and business environment.
Zheng Yanfeng, board chairman of the Shanxi-based Songjiagou Healthy Food Co, said it was the first time for Shanxi's herbal tea products to be exhibited at the show.
The company mainly produces herbal tea with sea buckthorn fruit as an ingredient. Sea buckthorn tea is only one kind of Shanxi's herbal tea products, which also use a variety of herbs including goji, milkvetch, chrysanthemum and forsythia as main ingredients.
The production of herbal teas in Shanxi province is similar to traditional tea-making in the rest of the country. This includes techniques such as drying, baking and fermenting, according to Zheng.
However, unlike traditional teas that use leaves as their ingredients, many parts of herbs-including leaves, fruits and roots-can be used to make herbal teas in Shanxi. Currently, there are nearly 300 invention patents related to herbal tea production.
Authorities in Shanxi expect to develop herbal tea into a local pillar industry and aim to promote the products throughout China and the rest of the world.
According to the Shanxi Administration for Market Regulation, there are more than 100 enterprises engaged in the production of herbal teas. More than 220 varieties and 92 brands are sold both domestically and overseas.
Shanxi's entrepreneurs also used the Qinghai Investment and Trade Fair for Green Development as a platform to expand the market presence in Qinghai for established Shanxi food products.
Li Xinyi, general manager of Raotian Agriculture, one of Shanxi's leading vinegar producers, said his company signed cooperative agreements with several dealers in Qinghai.
"The partners include some supermarket chains in Xining and other cities in Qinghai," Li said.
Guo Yanjie contributed to this story.
By YUAN SHENGGO
(责编:张婷婷、常慧忠)