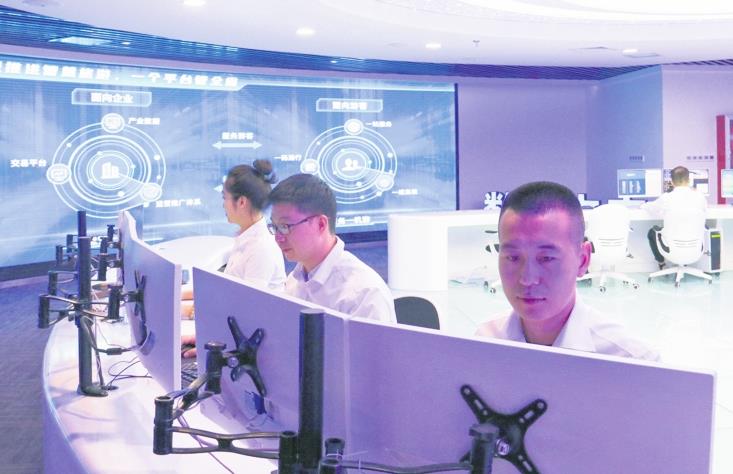 Staff members at Shanxi Culture and Tourism Group work on the Travel in Shanxi app.WANG SHAOFEI / FOR CHINA DAILY
The number of users of the Travel in Shanxi app passed 500,000 on Aug 3, showing that the platform designed to improve services for tourists has gained wider recognition.
The app was developed by Shanxi Culture and Tourism Group, assigned by the Shanxi Culture and Tourism Department.
Tourists can use the app to book tickets to scenic areas and reserve hotel rooms. They can also discover the latest information and policies of provincial destinations.
"The app is a useful tool for tourists to make holiday plans," said Li Chaoyi, a high school graduate in Taiyuan, capital city of the province.
Li was admitted to a university outside Shanxi, so he plans to "tour as many destinations in Shanxi as possible" before he leaves.
He made the decision after he read a document on the app issued by the Shanxi Culture and Tourism Group on July 22. It requires all 126 major tourism destinations to receive first-time visitors for free.
"I was relieved when I was admitted to the university I applied for. So I decided to have a thorough tour of Shanxi given that almost all the destinations are free," Li said.
Shanxi's tourism authorities issued the decree in a bid to boost the tourism industry and offset the negative effects of the COVID-19 pandemic.
Other policies for the industry include online ticket reservations in a bid to control tourist numbers and meet the requirements of local epidemic prevention and control.
According to Shanxi Culture and Tourism Group, online ticket booking is possible through the app. Once the reservation is completed, a QR code is generated on the app. The users can then be let through a scenic area's entrance by having their QR scanned.
The company said the app has other functions to help tourism operators better run their destinations.
For instance, the app is connected to local firefighting departments, allowing a quick response in case of emergency.
Shanxi is said to have the largest number of ancient buildings in China. Fire prevention is of great significance to the tourism industry because most of these buildings are wooden.
Li Yali contributed to this story.
By YUAN SHENGGAO
(责编:赵芳、常慧忠)