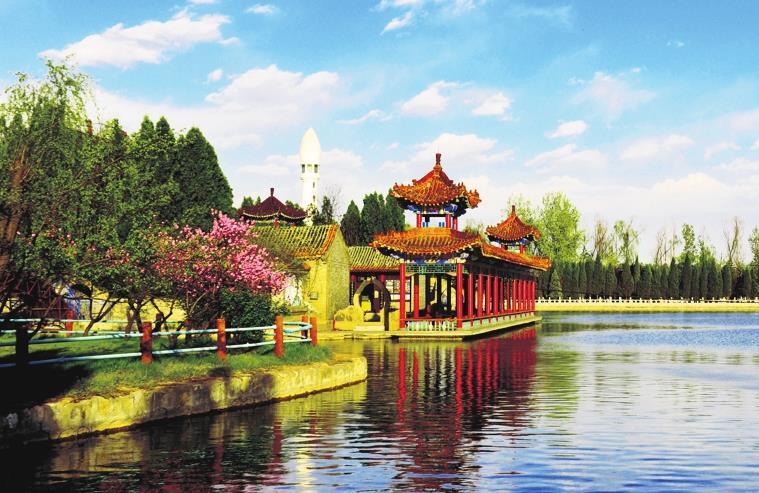 Decades of development have turned Jiajiazhuang village into an attractive community for residents.
On their way to xiaokang-or moderately prosperous-society, the people of Jiajiazhuang, a small village in Fenyang city, are planning an undertaking that they could never have predicted.
The village's officials recently announced an ambitious plan to build a movie academy. The plan came about because it is the home village of Jia Zhangke, one of the top movie directors in China.
As one of the leading "sixth-generation directors" in Chinese cinema, the 50-year-old Jia has garnered international praise and awards for a number of his social realism films over the past years, with representative works including Mountains May Depart, Still Life, and A Touch of Sin.
Jia is a supporter of the village movie academy.
He sees the village as a source of inspiration for his artistic creations and has regularly portrayed rural life and landscapes in his movies.
During a recent conference for the preparation of the academy, he promised to use the village as a base for his new movies.
According to local officials, the academy will be located in the Jiajiazhuang Industrial Park, next to the Jia Zhangke International Arts Center and Jia Zhangke Seeds Theater.
After decades of development, the village has grown into a community distinguished from its neighbors.
It now boasts a four-star hotel and several other star-rated accommodations, a booming commercial street and a number of creative cultural facilities.
In the village history museum, visitors see from pictures that this booming community was an impoverished village decades ago. People lived in shabby thatched houses, the roads were muddy when it rained and people's incomes were limited because of the infertile land.
But changes took place in the late 1980s when the village leaders led residents to start up their own businesses.
Now the village has complete industrial chains for agriculture to manufacturing and tourism. Per capita annual income reached 30,000 yuan ($4,320) in 2019, according to the local villagers' committee.
"A good life is not defined by how much money you have. We are now hoping to live a life with both spiritual and economic accomplishments," said Zhang Lijun, a local villager.
The village is currently shifting its focus to developing industries that improve local education and spiritual well-being, like the movie academy.
Zhang is cooperating with his fellow villagers to establish an international school in the village.
"With the faculty and facilities in place, the school is ready to open in early September," Zhang said.
By YUAN SHENGGAO
Li Yali contributed to this story.
(责编:赵芳、常慧忠)