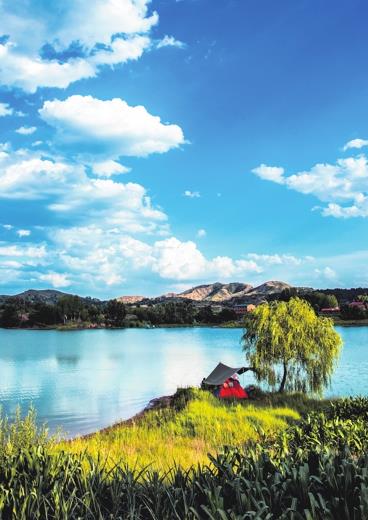 With its serene beauty, Yunzhu Lake has become an emerging tourist attraction in Shanxi.GAO LEI / FOR CHINA DAILY
Yuzhu Lake, a reservoir in Yushe county in the east of Shanxi province, would be a lesser-known destination if not for the recommendation of fishing enthusiasts.
"We have been fishing by the lake for more than 10 years. Every time we came here, we were impressed by its serene beauty," said Yan Yongzheng, an angler from Taiyuan.
"We have fished in many lakes and reservoirs in and near Taiyuan, but this one is the most beautiful,"Yan added.
He said the area features a pleasant temperature in summer and has a good air quality all year round, adding that he and his friends have discovered many attractive sights at the lake and close by.
"It is a paradise for birds. We spotted groups of swans in winter and spring, egrets and wild ducks in the summer and autumn. Of course, we have found a lot of other birds but we don't know their names," Yan said. He added that there are also danxia landforms in the neighborhood, which feature red rocks and hills of red earth.
"We have posted the pictures of our findings on WeChat, which has helped to attract an increasing number of sightseers," Yan said.
When they first came to Yuzhu Lake for fishing, there was no accommodation. Only later did rural bed-and-breakfast businesses emerge to cater for anglers and sightseers, according to Yan.
"Now I take my family here, staying at B&Bs for one or two nights on the weekend, fishing and seeing sights in the day and having a barbecue in the evening," Yan said.
Aware of the lake's potential in attracting tourists, the local government began to plan development of the area in 2006. It hosted a fishing and recreation festival in 2007.
Businesses also spotted opportunities. Jingfeng Group based in Taiyuan was among the major tourism developers in the area.
In 2013, the company signed an agreement with the Yushe county government to develop Yuzhu Lake scenic area.
The scenic area covers 21.4 square kilometers, including the 11.22-sqkm water surface.
After seven years of growth, Yuzhu is a comprehensive destination for sightseeing, fishing, water sports and cultural tours, as well as recreation and experiencing rustic life, according to Yan Liming, board chairman of Jingfeng Group.
The executive said the company aims to make the area a demonstrative destination for cultural tourism. For this purpose, a number of cultural events have been held or planned, including cultural forums, sports contests and art exhibitions.
The local government and tourism operators have also paid close attention to environmental protection.
The government of Jinzhong city, which administrates Yushe county, and Shanxi Water Utility Investment Group pledged to invest 10 billion yuan ($146 million) to improve the local environment over the next few years.
Li Yali contributed to this story
By YUAN SHENGGAO
(责编:张婷婷、常慧忠)