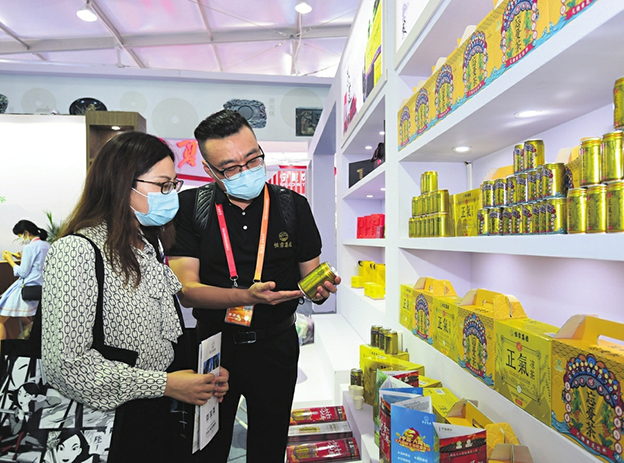 A sales representative from Shanxi province introduces herbal tea products to a visitor during the China International Fair for Trade in Services.RUAN YANG / FOR CHINA DAILY
Officials aim to create stronger brand for products and increase awareness
A sales representative from Shanxi province introduces herbal tea products to a visitor during the China International Fair for Trade in Services in Beijing.
Customers can taste a variety of authentic herbal products in Shanxi at an ongoing trade show held from Thursday to Friday in Taiyuan, capital of the North China province.
More than 200 herbal tea products are on display across 12 exhibition areas covering 3,000 square meters at the Taiyuan Coal Transaction Center.
In addition to exhibitions, several forums and workshops are being held at this two-day event, with specialists and industry insiders sharing their insights into the emerging herbal tea industry. They're also informing visitors about the functions of various products and ways of steeping different herbal teas.
"Every city in Shanxi is displaying its local products, offering visitors an opportunity to taste as many teas as possible," said Feng Yaowu, head of the office of local produce in Shanxi.
Since the beginning of this year, authorities in Shanxi province have been working to develop herbal tea into a local pillar industry.
Their confidence is based on the rich local resources of medical herbs and a long provincial history in producing herbal teas and other herb-related products.
According to a recent national survey, Shanxi is home to nearly 1,800 varieties of medical herbs.
Herbs such as pilose asiabell, astragalus, forsythia, chrysanthemum and sea buckthorn are widely used in the production of herbal teas in Shanxi due to their ready availability and high quality.
Shanxi's herbal teas have been brewed and consumed for thousands of years.
The production of herbal teas in Shanxi shares some similarity with traditional teamaking in the rest of the country, which includes techniques such as drying, baking and fermenting.
However, unlike traditional teas that use tea leaves as their ingredients, many parts of herbs, including leaves, fruits and roots, can be used for making herbal teas in Shanxi. There are nearly 300 invention patents related to herbal tea production, according to local officials.
Some herbal teas can help control body temperature and flush out toxic substances, while others are good for immunity, sleep or digestion, experts said.
Prior to the ongoing event in Taiyuan, Shanxi's herbal tea products have been displayed at various trade shows in China.
During the 2020 China International Fair for Investment and Trade held in Xiamen, Fujian province, from Sept 8-11, herbal tea products from Shanxi attracted the attention of many visitors.
After drinking a cup of forsythia tea at one of the booths at the Shanxi pavilion, local visitor Zhao Ruixue said "this was the right taste," comparing it to her childhood experience.
A native of Pingding county of Shanxi province, Zhao has lived in Xiamen for decades.
"When I was a child, we used newly collected forsythia leaves to make tea by ourselves. Forsythia tea helps relieve inflammation and fevers,"Zhao said. "Although many of the teas are ready-made products, they just taste the same as the old days,"Zhao said.
On display at the Xiamen fair were more than 200 herbal tea varieties from 17 companies in Shanxi, including those made from mulberry leaves, astragalus roots, chrysanthemum flowers and wolfberry fruits.
Zhu Jie, a business visitor from Shanghai, said it was the first time that he drank the authentic Shanxi herbal teas.
"I am a lover of traditional teas. But I was pleasantly surprised with the herbal teas, considering their unique tastes and fragrances," Zhu said.
Before the Xiamen fair, Shanxi's herbal tea products were also exhibited at the China International Fair for Trade in Services, held in Beijing from Sept 4-9.
To help improve recognition of Shanxi's herbal tea, governments and businesses in Shanxi have launched a series of branding campaigns since the beginning of this year.
During a promotional fair for local herbal teas in Taiyuan on March 20, local businesses founded the Shanxi Herbal Tea Industrial Alliance, which is responsible for the promotion of herbal tea products, drafting industrial standards and helping members register their trademarks while designing corporate identities.
One of the alliance's earliest actions was launching the "Shanxi Herbal Tea", a collective brand for local products with a geographical indication, on the same day of its inauguration.
This brand is expected to make Shanxi Herbal Tea a recognized name like Longjing Tea in Zhejiang province, Pu'erh Tea in Yunnan and Wuyi Rock Tea in Fujian, according to Ju Zhen, chief of the Shanxi Department of Agriculture and Rural Affairs.
He said the herbal tea sector will become a new growth area in the province's rural development, alongside agricultural products with local geographical indications such as millet, matured vinegar, fragrant pear, walnut, sorghum, buckwheat and potato.
Guo Yanjie contributed to this story.
By YUAN SHENGGAO
(责编:李梦文、常慧忠)