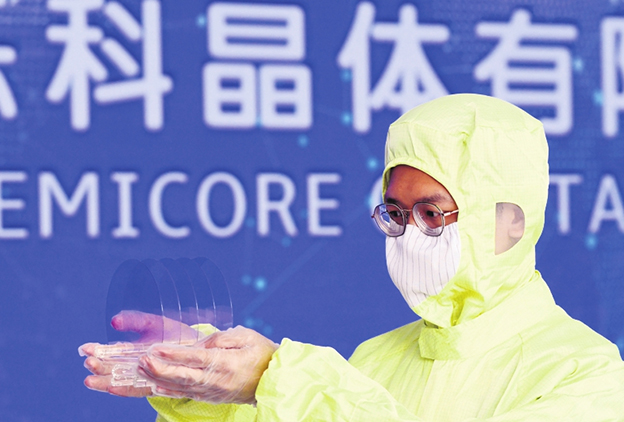 A staff member of Semicore Crystal shows the company\'s cutting-edge 6-inch silicon carbide chip.
Taiyuan-based Semicore Crystal recently completed a new plant for the production of advanced 6-inch silicon carbide chips.
The plant is located in the Shanxi Transformation and Comprehensive Reform Demonstration Zone in Taiyuan, capital of Shanxi province.
"With the new plant in place, we are expected to become the world's third-largest producer of the chips," said Li Bin, general manager of the company.
With the properties of high-temperature resistance and high-power efficiency, the silicon carbide chips can be used in the production of high-capacity semiconductor components.
Li said the chips, especially the 6-inch version, is crucial for new communication technology like 5G.
"The silicon carbide chips are a must for 5G base stations, which are designed for high-speed and high-capacity transmission," the executive explained.
Li said Semicore Crystal began mass production of the chips in 2018 after 11 years of research and development. His company is currently one of the largest suppliers in domestic market.
"China used to heavily rely on supplies from foreign silicon carbide chip producers for a long time and the launch of Semicore chips has freed the country from that," Li said.
Wei Rusheng, deputy general manager of the company, said the chips are also used in electronic components like triodes for electric vehicles.
"A battery equipped with silicon carbide chips features better energy efficiency, which can help the vehicle extend its single-charge mileage by about 10 percent," Wei said.
The executive predicted that the production of silicon carbide chips could grow into a large industry with a market value surpassing 100 billion ($14.8 billion) in China, given that sales of electric vehicles have increased by more than 70 percent annually in recent years.
Semicore is only one example of the rapid development of Shanxi's chip and semiconductor industry.
Local players, such as Fenghua Information Equipment and the No 2 Institute of China Electronics Technology Group, have established nationally advanced semiconductor and display plants in Shanxi.
China Crystal Technologies and BW38 IC Manufacturing have built their plants in Shanxi to produce globally leading microwave power amplifiers and wave filters. Meanwhile, Shanxi-based Zhongke Lu'an has developed into the world's largest ultraviolet LED chip producer, according to the Shanxi Department of Industry and Information Technology.
The department recently released an action plan for the digital and information industries that are aiming to make breakthroughs in the internet, artificial intelligence, digital, semiconductor and chip sectors.
According to the plan, cities such as Taiyuan, Xinzhou and Changzhi, which have sound industrial foundations, will be the province's major bases for the chip and semiconductor business.
By YUAN SHENGGAO
Guo Yanjie contributed to this story.
(责编:桑莉媛、赵芳)