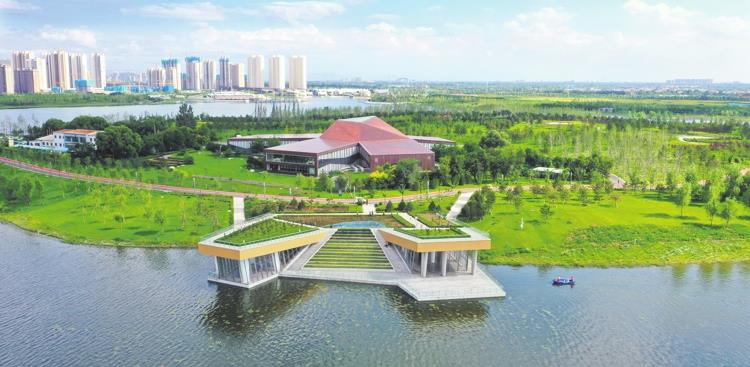 A picture taken in Taiyuan shows an improved environment due to the efforts to control pollution.MA LIMING / FOR CHINA DAILY
Opening the window to air out her apartment in Taiyuan, capital of Shanxi province, local resident Wang Jingjing said she was happy with the air quality when the heating season started on Nov 1.
"The sky is blue and there is no pungent smell as we might sense in the previous heating seasons," Wang said. She added that "it looks unnecessary to use the air purifier" as she did years ago.
In some cities in the north of Shanxi, including Datong and Xinzhou, the heating supply began nearly two weeks ahead of Nov 1.
Homes became warmer but the usual smoggy days did not come, local residents said.
Pictures of blue skies and white clouds frequently appeared on social media, showing people's excitement with the clear days.
In Shanxi, a major coal production province in China, burning coarse coal for heating used to be a major source of air pollution, especially in the rural areas.
The local government began a campaign to replace coarse coal with clean fuels for heating in 2017.
"From 2017 to 2019, the fuel replacement project had covered nearly 3.6 million households," said Yan Wenquan, deputy chief of the Shanxi Energy Resources Bureau.
"Coarse coal-fired heating is expected to be phased out in nearly 5 million households in total by the end of this year.
Yan estimated the per household consumption of coarse coal is 4 metric tons a year. The project has led to a reduction of 20 million tons of coarse coal annually and a decrease of 300,000 tons of carbon dioxide emissions in the whole province.
Adding to Shanxi's efforts in tackling air pollution is the renovation of its coking plants and other polluting enterprises.
Over the years, Shanxi has produced nearly half of China's coke, which is mainly used in steelmaking.
"Coking and steelmaking are the traditional economic pillars of Shanxi. We have made efforts to upgrade these industries in recent years to reduce air pollution and to realize low-carbon growth," said Zhang Zhanxiang, deputy chief of the Shanxi Department of Industry and Information Technology.
According to Zhang, more than 38 percent of the coking plants in Shanxi used advanced furnaces featuring higher efficiency and lower emissions by the end of 2019, compared with 25.5 percent at the end of 2017. He estimated the number can reach 50 percent by the end of this year.
In June, the Shanxi Department of Industry and Information Technology launched a new plan to reduce emissions in its steel industry, which requires a reduction of 34,000-40,000 tons of gas pollutants a year.
Chen Juan, a native of the Guangxi Zhuang autonomous region who studied at a university in Taiyuan 15 years ago, was impressed by the changes when she returned this month for a business trip.
"Taiyuan used to be a city full of black dust. You wore white shoes in the morning and found they were blackened in the evening," Chen recalled.
"But now there is no more black dust and pungent smell. I am surprised with the lovely days here."
Guo Yanjie contributed to this story.
By YUAN SHENGGAO
(责编:张婷婷、常慧忠)