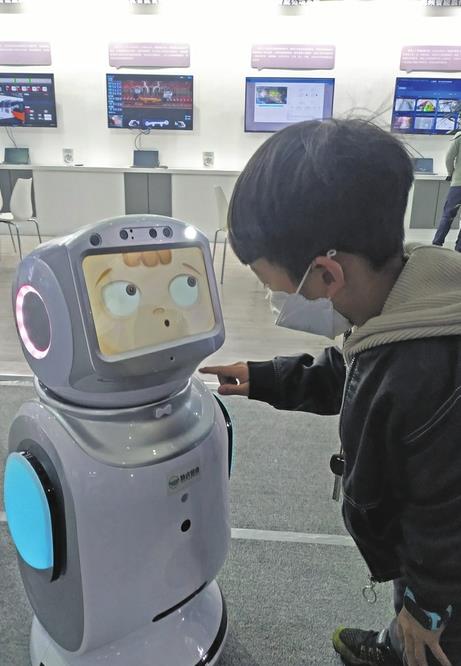 A child interacts with a robot at the 2020 China (Taiyuan) Artificial Intelligence Conference. XUE JIANYING / FOR CHINA DAILY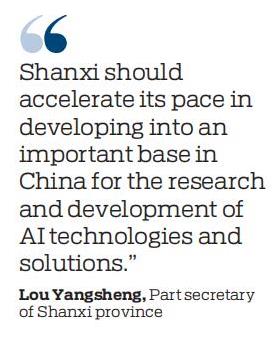 Shanxi is welcoming businesses from across the world to invest in its artificial intelligence industry, which has shown great development momentum over the years, said Lou Yangsheng, Party secretary of Shanxi.
The senior official made the remark at the opening ceremony of the 2020 China (Taiyuan) Artificial Intelligence Conference on Oct 31 in the Shanxi provincial capital city of Taiyuan.
"Shanxi should accelerate its development into an important base in China for the research and development of AI technologies and solutions, as well as for the manufacturing of AI-related products," Lou said.
He urged local governments and businesses to open up to the world and grasp the latest industrial trends and opportunities to boost the growth of the local AI sector.
The three-day event included a conference on AI, an industry exhibition, forums and signing ceremonies for cooperative projects.
More than 300 products and solutions were displayed at the industry exhibition, covering such areas as robots, language translation, autonomous driving and facial recognition. The exhibition demonstrated the latest breakthroughs in the industry worldwide.
A humanoid robot called Walker was among the most eye-catching exhibits.
Developed by Shenzhen-based UBTech, Walker is a multipurpose robot for entertainment and housekeeping. It played soccer and did chores like watering flowers and cleaning floors at the exhibition venue.
For industry insiders, their attention was attracted by the robots with industrial applications, including those for fire fighting, mining and other operations in hazardous environments.
A robot with four legs called AlienGo, developed by Unitree Robotics based in Hangzhou, Zhejiang province, attracted the attention of both ordinary visitors and industry insiders.
The robot can follow simple voice instructions such as "come here", "sit" and "rise". It can even perform somersaults.
AlienGo is mainly used to replace humans in risky missions such as patrolling chemical plants and coal mines, offering solutions to fire fighting, bomb diffusing and rescue, according to a Unitree Robotics staff member.
Also drawing visitor attention were robots used in sectors closely related to people's lives.
For instance, Huihu Health Sciences based in Taiyuan, Shanxi province, displayed its medical service robot which can facilitate traditional Chinese medicine solutions.
With the robot providing free health checkups, the Huihu exhibition area was crowded with visitors.
Sitting before the robot, visitor Zhang Xia had her face, tongue and hands checked. Then a QR code was generated and shown on the robot's display screen.
After scanning the code, Zhang's health checkup report was immediately sent to her mobile phone. She received detailed information on her skin and bones, as well as a comprehensive health assessment and recommendations for diet, sleep and exercise.
A Huihu staff member said checks of the face, tongue and hands are among the major TCM diagnosis measures. The robot on display is the first product made in China that uses big data, AI and other digital technologies to assist in TCM diagnosis.
The AI solutions for smart urban management were another highlight at the exhibition.
Chinese telecom giant Huawei displayed its smart urban management solution, which, according to an executive of the company, is "a comprehensive platform using all the cloud, AI, big data and algorithm resources to help city administrators acquire detailed information in all fields and make quick responses and accurate decisions".
For instance, the company has helped the Tianjin Economic Development Area develop an intelligent operational center, which is used to cover operations in multiple fields including economy, social security, transport, public facilities and services.
On the first day of the event, agreements on a total of 21 large investment projects were signed, covering such fields as smart transportation, software development, financial technologies and information technologies for medical care, according to the organizers of the conference.
Li Yu and Xue Jianying contributed to this story.
By YUAN SHENGGAO
(责编:张婷婷、常慧忠)