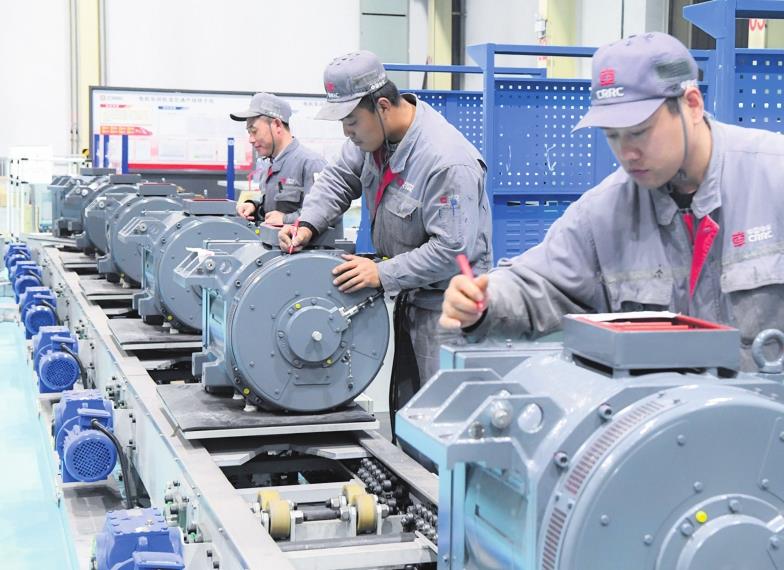 Staff members of CRRC Yongji Electric Motors assemble the permanent magnet traction motors to be used in the new?generation bullet train which has a top speed of 400 kilometers per hour. DAI CHENKAI / FOR CHINA DAILY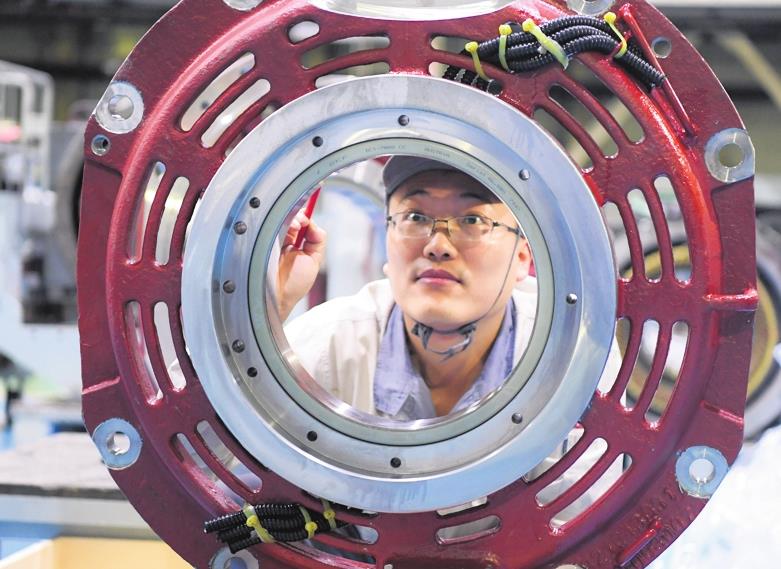 New-generation high-speed trains that can adapt to different track gauges, widths and climates rolled off the production line at a plant in Changchun, Jilin province.
The new type of trains, developed by CRRC Changchun Railway Vehicles, is designed with a top speed of 400 kilometers per hour. Its ability to run on international railways with different track gauges and power supply makes international rail travel more practical, according to industry insiders.
A core component of the train, the permanent magnet traction motor, was independently developed by the CRRC Yongji Electric Motors based in Yongji city in Shanxi province.
The cutting-edge product, featuring large power capacity, light weight and adaptability to extreme weather, is crucial to ensuring the safe operation of its super-high-speed trains, according to Xu Yong, a senior engineer at CRRC Yongji Electric Motors.
"The fastest current trains in the world, which are used in Beijing-Shanghai and Beijing-Tianjin lines, are running at 350 km/h," Xu said.
"The last generation of trains has a constant speed of 400 km/h, showing a major technological breakthrough in the field.
"A crucial part of the train is the new permanent magnet traction motor developed by CRRC Yongji Electric Motors, with a per unit power output of 800 kilowatts."
The electric motor features a closed-loop cooling system, which allows it to work stably in various weather conditions, according to Xu.
The engineer explained that a higher or lower temperature could lead to substantial losses of power output. Now that problem is solved by the closed-loop cooling system.
"The system allows the train to travel through regions with a temperature difference of more than 50 degrees Celcius," Xu said.
The engineer said higher power efficiency and lower maintenance costs are among the other advantages of the motor.
"The power efficiency can reach 97 percent when the train runs at a high speed," Xu said. He added that the performance means the train's full-speed energy consumption is on a par with the current 350-km/h train at its highest speed.
"The motor represents the high level of Shanxi's manufacturing industry and will help China-made high-speed trains better meet the requirements of the international market," Xu said.
Guo Yanjie contributed to this story.
By YUAN SHENGGAO
(责编:张婷婷、常慧忠)