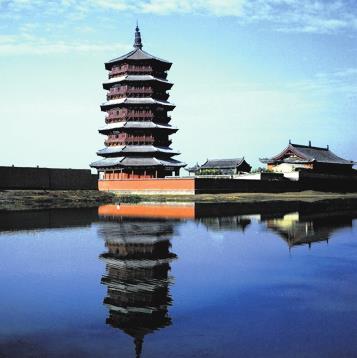 The Sakyamuni Pagoda in Yingxian county is the oldest preserved wooden tower in China.LI WENKUI / FOR CHINA DAILY
In Shanxi, the province boasting the largest number of ancient structures in China, a wooden tower in Yingxian county is seen by many as the pride of them all.
The Sakyamuni Pagoda is the oldest preserved and largest wooden tower in China.
Located in the northwest of the Yingxian county seat, the 57.43-meter-high, five-story tower was built in the Liao Dynasty (907-1125).
The entire structure was put together with mortise and tenon joints, without using a single nail.
In 2016, it was included in the Guinness Book of World Records as the highest wooden tower in the world.
"Throughout the millennia, there were a lot of tall wooden structures in China, with some even higher than this one in Yingxian," said Sun Shupeng, an expert in ancient architecture in Shanxi.
He noted that most of the structures had collapsed in the previous centuries, making the Yingxian tower the most outstanding in modern days.
"As the tower represents the high level of architectural achievements of ancient China, it has now become an attractive site for both researchers and tourists," Sun added.
Ning Ruifeng, a tourist from Datong, recently visited the tower with his family.
"I'd like to show my son, who is a schoolboy, the miracle of Chinese architecture and the stories relating to the structure," Wang said.
He hired an experienced tour guide to tell them the history of the tower.
The guide introduced that the tower is slightly leaning, "so tourists are only allowed to visit the first floor".
Over the past centuries, wars, earthquakes, rain and winds and even improper maintenance have been the major threats to the tower.
To this date, repairing the tower has challenged researchers, according to Sun.
"The pressing task is to prevent it from further leaning and even collapsing."
In 2007, the Chinese Academy of Cultural Heritage based in Beijing launched a special program for the preservation and repair of the tower. A specialist team has been surveying and studying every detail of the tower to map out a plan for repair.
"The researchers have proposed a number of solutions, but no consensus has been reached yet," Sun said.
Li Yali contributed to this story.
By YUAN SHENGGAO
(责编:张婷婷、常慧忠)