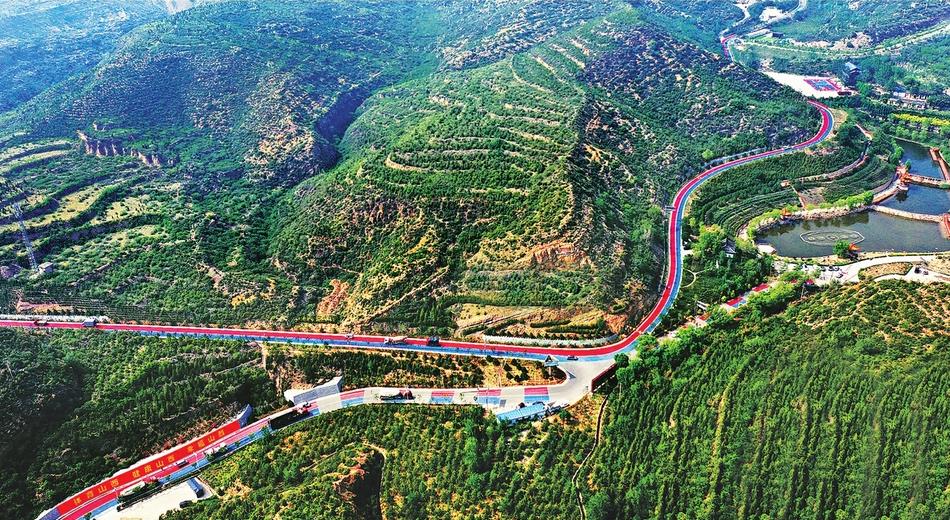 Increasing investment in improving transport facilities is one of the government\'s measures to boost rural tourism and help in poverty reduction in Shanxi province.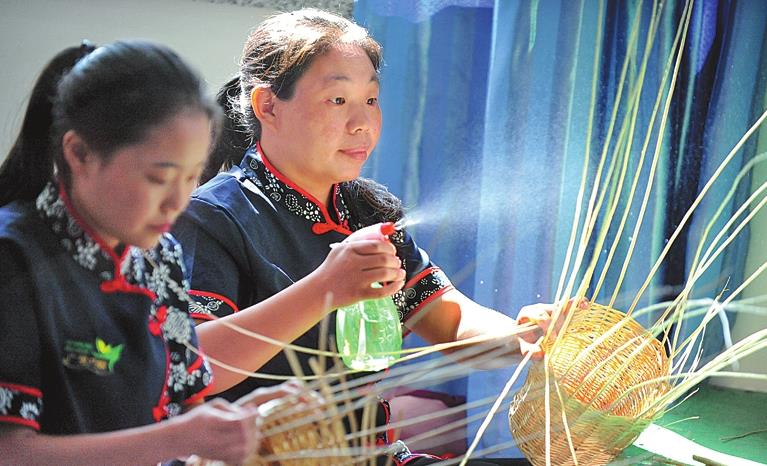 Handicrafts made by farmers in Guangling county are popular with tourists.
Tian Zhiqian, a retired official, said he was surprised at the great changes made in rural areas of Qinshui county, where he worked several years ago.
Tian and his former colleagues, who also used to work in Qinshui, recently paid a visit to several villages in the county. Nanyang was one of the villages they visited.
"When I worked in Qinshui, Nanyang was among the most underdeveloped villages in the county," Tian said.
According to Tian, farming and animal husbandry were the only sources of revenue for people in Nanyang, which was on the province's list of impoverished villages. Output from the two industries was low due to limited land resources and weak ecology.
Tian said his old impression of the village was completely changed when he saw the broad, paved roads, tidy streets and courtyards.
"Despite all the renovations, I was happy to see that the old-style streets and residences that are typical of an ancient village of Shanxi are still intact," he said.
He was told that it was the emerging rural tourism industry that made the changes happen.
Nanyang is close to the county's major tourist attractions such as Lishan Scenic Area, Honggu National Forest Park and a base for the Chinese military forces during the War of Resistance Against Japanese Aggression (1931-45).
Making use of the location, villagers began to operate tourism-related businesses, such as bed-and-breakfast accommodations and selling local produce to visitors.
Wang Jianzheng, a local farmer, owns a household B&B business. His special offering to tourists is his unique hotpot dish.
Wang said annual revenue from the business has been more than 30,000 yuan ($4,245) in recent years, which helped lift his family out of poverty quickly.
To improve local infrastructure, the Poverty Alleviation Office of Shanxi invested more than 500,000 yuan in 2017 to build public toilets and water supply facilities in the village.
Another village that gained support from provincial authorities for tourism-based poverty reduction is Qiaoshang in Huguan county.
This ancient village has a number of old temples, opera stages, residences and bridges. Located in the heart of the Taihang Mountains and featuring natural attractions like a grand gorge with flowing water and dense forests, the village has great potential to become a new destination for sightseeing and relaxation.
However, poor road connectivity and public infrastructure are major challenges to tourism development in the village.
To help tackle these challenges, the Shanxi Culture and Tourism Department invested about 6 million yuan in building roads, water supply facilities, parking lots and public toilets in the village.
"With such public facilities in place, Qiaoshang is now on the fast track of tourism development," said Shi Zhenya, a Shanxi Culture and Tourism Department official who is responsible for tourism-aided poverty reduction in the village.
The official said the public infrastructure also includes telecommunications like mobile telecom base stations and Wi-Fi.
"Accessibility to the internet not only offers convenience to tourists but also helps change the lifestyle of locals for the better," Shi said.
The official said the provincial tourism authorities have also arranged a number of training sessions for local officials and tourism-related business operators. This equips them with the latest management skills and market information for growing the tourism industry in the village.
According to the department, Shanxi has selected 300 villages as demonstrative areas for tourism-aided poverty reduction since 2018.
During the past two years, each of these 300 villages received about 36,000 visits annually on average. The annual tourism revenue of the villages totaled 340 million yuan, according to Wang Aiqin, chief of the Shanxi Culture and Tourism Department.
She added that a total of 181,200 rural residents in Shanxi had been lifted out of poverty by developing tourism-related businesses.
Li Yali contributed to this story.
By YUAN SHENGGAO
(责编:张婷婷、常慧忠)