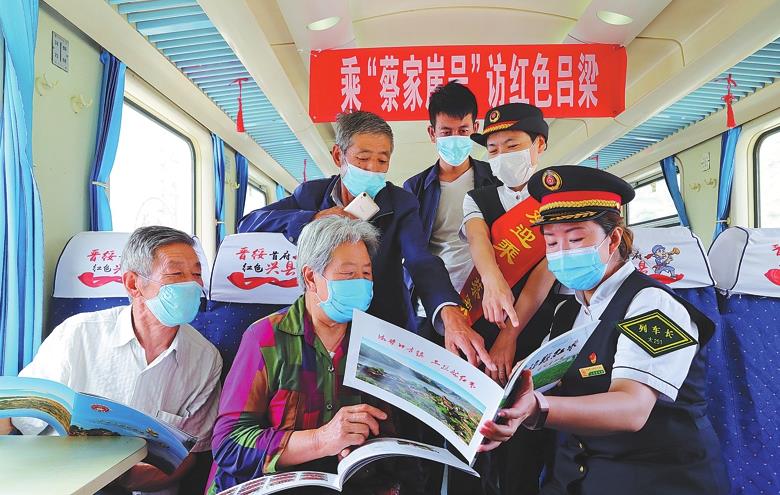 Crew members introduce attractions along the railway to tourists on the train from Taiyuan to Caijiaya.
When passengers boarded a train traveling from Taiyuan, capital city of Shanxi province, to Caijiaya Station in Xingxian county on June 21, they were given a special treat.
A performance of the local Lyu Opera by the crew members was put on from one car to the next, growing into a big chorus with passengers joining in to sing their favorite songs.
Despite the surprise, the passengers were aware that the date marked the second anniversary of the opening of the special train route into the heart of the Lyuliang Mountains in the west of Shanxi.
After renovating a former freight line, the Taiyuan Bureau of China Railway Group launched a passenger route between Taiyuan and Caijiaya, establishing the first passenger train service in Xingxian county. The entire trip takes about four hours.
Before that, traveling from the Lyuliang Mountains to the rest of Shanxi province was no easy feat.
"It took more than seven hours from Xingxian to Taiyuan by bus. And a ride on the zigzagged and bumpy mountain roads was especially uncomfortable for carsick passengers," said Wang Rui, a passenger on the train.
Sun Zhizhou, head of a nurse training school in Xingxian, said the passenger train service has brought additional benefits to his school.
"With travel becoming easier thanks to the train route, we have enrolled more students from regions other than Xingxian over the past two years," Sun said.
Executives of the Taiyuan Bureau of China Railway said the passenger train service is aimed at helping to alleviate poverty in regions along the route by facilitating travel for locals and bringing in more tourists.
The Lyuliang Mountains are a famed "red tour" destination in Shanxi, as the region used to be a major base for the Eighth Route Army led by the Communist Party of China during the War of Resistance Against Japanese Aggression (1931-45).
Caijiaya, the terminal destination of the railway, was home to the headquarters of the army. It has now developed into a prosperous township thanks to the inflow of a growing number of tourists.
Bai Xinyong, a local resident, operates a restaurant near the railway station.
"I opened the restaurant in 2003, mainly serving truck drivers in the beginning," Bai said, adding that it was only a small, self-run business at that time.
"With the rapid growth in diners after the opening of the train station, my business has grown into two-story restaurant with another five workers employed in addition to my wife and me," Bai said.
By YUAN SHENGGAO
(责编:张婷婷、常慧忠)