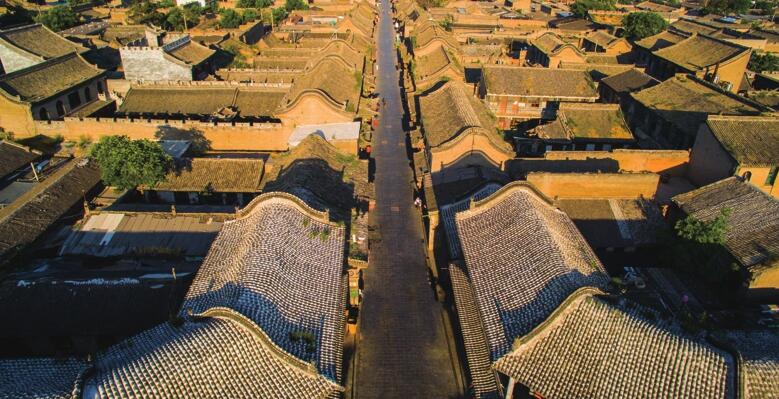 The ancient town of Zhaoyu was a hub for the famed Jinshang merchants in history.
Exhibits at the Jinshang Tea Firms Museum show how tea products were transported centuries ago.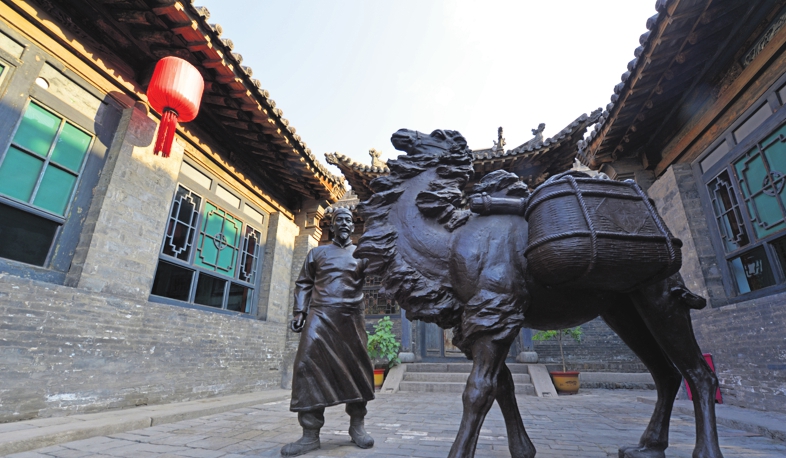 Exhibits at the Jinshang Tea Firms Museum show how tea products were transported centuries ago.
The ancient town of Zhaoyu in Qixian county, Shanxi province, is in line to regain its glory as a hub of the famed Shanxi merchants after local authorities announced an ambitious plan on July 1.
It called for efforts to build Zhaoyu, the county seat of Qixian, into a "center of tea culture" in Shanxi and a key destination for tea-themed tourism.
Shanxi is known for its historical commerce that was developed by the famed Shanxi merchants, or Jinshang. It is said Jinshang merchants dominated commercial circles in North China for about 500 years since the Ming Dynasty (1368-1644).
However, many of these successful merchants started out as small vendors who traveled as far as Russia.
The trade in tea products was a dominant business of Jinshang merchants for centuries.
In the 1700s, the merchants-especially those in Qixian-discovered the great potential of Chinese tea in the markets of North Asia that nowadays includes Mongolia and Siberia.
According to Wang Zaipan, a tour guide at the Jinshang Tea Firms Museum in Zhaoyu, diseases linked to malnutrition were common among nomads in North Asia as meat was their staple food.
"Merchants in Qixian learned from businesspeople selling tea in Southwest China's Tibet that tea could help with digesting meat," Wang said.
The tour guide added that Qixian's merchants nurtured a tea market in North Asia. They established dealerships in the Russian city of Kiakhata.
"They purchased teas from Fujian province and sold them to North Asia and Europe through the hubs of Qixian and Kiakhata, creating a trade route of more than 10,000 kilometers," Wang said.
"In centuries before the 1700s, China-Russia trade was dominated by products like silk and porcelain. It was the businesspeople in Qixian that developed the trade of tea and eventually led to the prosperity of Jinshang merchants," Wang said.
The Jinshang Tea Firms Museum is based in the former headquarters of Changyuchuan. Owned by the Qu family, Changyuchuan was among the oldest and largest tea-trading businesses in Qixian county.
On display in the museum are old account ledgers, documents and tea bricks as well as equipment for storage and transportation.
"Seeing all the exhibits, I understand the enterprising spirit of the Jinshang merchants," said Guo Jianghong, a tourist from Tianjin.
According to local records made during the Qing Dynasty (1644-1911), the merchants in Qixian established operations throughout tea production areas in China and many regions of Russia and other Asian and European countries. The booming tea trade made Qixian a center for the Jinshang merchants in Shanxi and a hub for China's foreign trade.
In 1994, Qixian was approved by the State Council as a Chinese historical and cultural city. The old streets of Zhaoyu were recognized by the then Ministry of Culture as Chinese historical and cultural streets.
There are 33 sites related to the ancient tea trade in Qixian, among which, 13 sites are on a China-recommended candidate list for the UNESCO World Cultural Heritage sites.
In Qixian's new development plan to build a tea cultural hub, Zhaoyu, as well as the entire county, will be positioned as a center for tea trade and a destination for tourism.
In its role as a tea trade center, the authorities in Qixian and Shanxi are expected to highlight operations in both traditional teas and emerging herbal teas.
In recent years, Shanxi authorities have attached great importance to the development of the herbal tea industry. They aim to nurture a unique Shanxi herbal tea brand next to China's established brand names like Longjing, Oolong and Rock Tea.
Lou Yangsheng, Party secretary of Shanxi province, directed officials in Qixian to make the county a major driver for the growth of the herbal tea industry in Shanxi by developing the county into a new distribution hub.
Lou made the remarks during a meeting in November 2019, when he was the governor of the province.
With regard to its role as a tea culture tourism destination, Shanxi Culture and Tourism Group will be responsible for new infrastructure and marketing in Qixian.
"We plan to complete a renovation of the ancient town in three years and related branding campaigns will go on at the same time," said Wang Lin, general manager of Shanxi Culture and Tourism Group.
Wang Wenbao, board chairman of the group, said: "Once a tea-trading hub in China, Qixian is witness to a brilliant tea culture in the country."
"As it is turning into a distribution hub of teas and integrating into the Belt and Road Initiative, Qixian will have a new role to play in Shanxi's opening-up," the executive added.
zhang yang contributed to this story.
By YUAN SHENGGAO
(责编:赵芳、常慧忠)