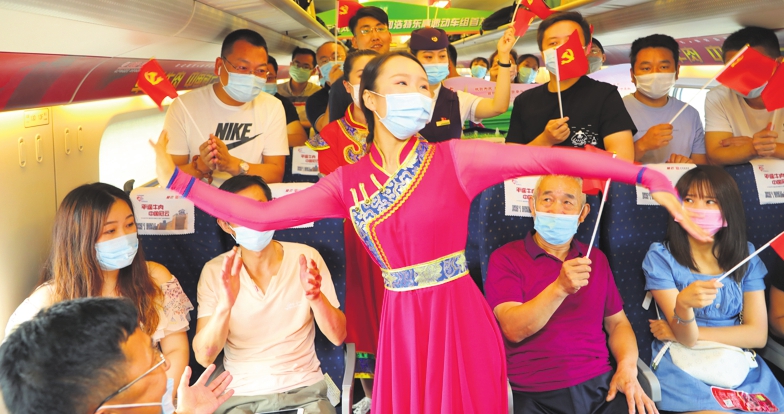 A crew member entertains passengers on the inaugural bullet train from Taiyuan to Hohhot with Mongolian folk song and dance. PROVIDED TO CHINA DAILY
A bullet train departed Taiyuan, capital of Shanxi province, for Hohhot, capital of the Inner Mongolia autonomous region, on July 1, sealing Shanxi's high-speed rail connection to all four of its neighboring provincial and regional capitals.
The high-speed train service is the latest effort of Shanxi to improve its connectivity to neighboring regions. This will play an important role in developing Shanxi into an important tourist destination in North China, according to local officials.
Yan Yi, an official at Taiyuan South Railway Station, said the new high-speed train, which is named Guanyun, can shorten the journey to less than five hours. By conventional train, it would normally take more than 10 hours.
"There will be two trains, numbered D2792 and D2796, going between Taiyuan and Hohhot every day, allowing travelers to easily reach major tourist attractions in Inner Mongolia and Shanxi within several hours," Yan said.
Shanxi and Inner Mongolia shared a strong cultural bond in history as a result of close business relations and immigration.
The renowned Shanxi merchants, or Jinshang, had used cities in Inner Mongolia, such as Baotou and Hohhot, as strategic points to expand business to North Asia that includes today's Mongolia and Siberia.
Over the past 500 years, Shanxi merchants opened a great number of businesses in Hohhot and Baotou. Many of them settled down in Inner Mongolia.
The large-scale immigration that took place in the 19th and 20th centuries also brought many Shanxi residents to Inner Mongolia to develop farming and other trades.
"Many of my relatives now live in Inner Mongolia. The new high-speed railway can make our mutual visits much easier," said Wu Xiaona, a Taiyuan resident on the inaugural bullet train to Hohhot.
"I was told that many of my relatives traveled to Inner Mongolia by foot or by riding wagons a century ago. That was usually a journey of several weeks compared with today's four-hour trip," Wu added.
Wei Wenling, a resident of Inner Mongolia, was surprised by this dramatic change in travel time.
"The train trip was more than 10 hours when I came to Shanxi a month ago. And now I'm going to reach Hohhot in four hours," Wei said. She added that she had visited Shanxi by air or by conventional train, "but the experience in a high-speed train is the most comfortable".
On the inaugural train, crew members entertained passengers by singing folk songs and introducing tourist attractions of both regions.
Kong Lingnan, head of the crew, said the train's route covers many attractions such as Jinci Temple and Yungang Grottoes in Shanxi and Daozhao Temple and Daqing Mountains in Inner Mongolia.
"Our crew members have attended training to get familiar with the attractions. Everyone of us is the image ambassador of tourism in both regions," Kong said.
Guo Yanjie contributed to this story.
By YUAN SHENGGAO
(责编:赵芳、常慧忠)