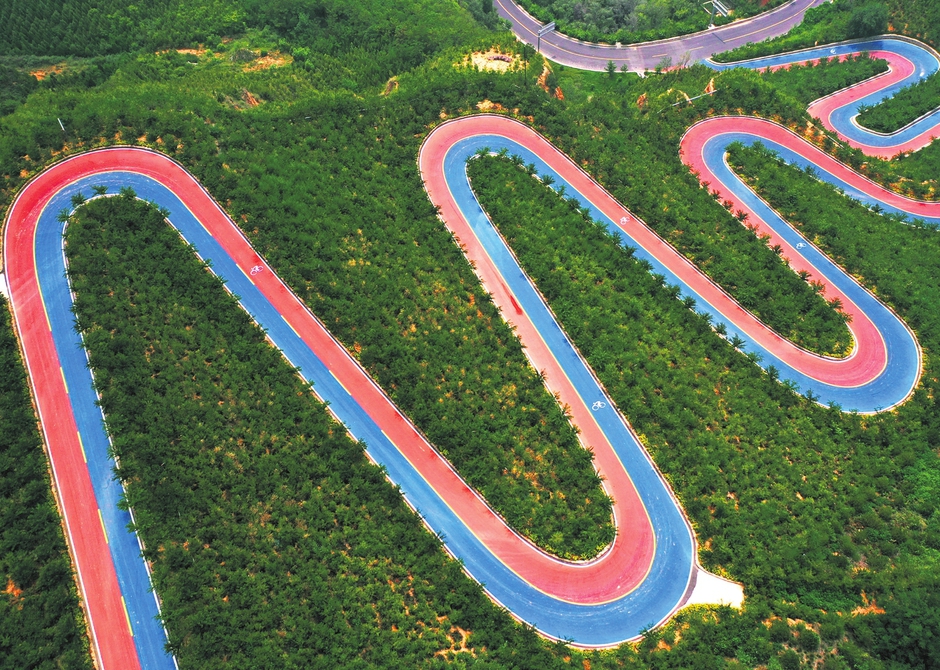 The redblue branch section of the East Mountain Sightseeing Road is designed to reach the standards of international highway cycling races. MA LIMING / FOR CHINA DAILY
A new sightseeing road opened recently in Taiyuan, capital city of North China's Shanxi province, is expected to boost local tourism and rural development, according to local businesspeople and residents.
The East Mountain Sightseeing Road welcomed traffic at the end of June and is connected to the West Mountain Sightseeing Road, which was completed in the summer of 2019.
The two roads are jointly called the East-West Mountains Sightseeing Road. They link major tourist destinations in the mountainous areas of Taiyuan's east, north and west.
The two-lane East Mountain Road begins in Wangjiashan village in the northeastern suburbs of Taiyuan.
According to Gao Zhankui-an executive of China Railway No 3 Engineering Group, the project builder-the East Mountain road is designed for the slow-paced tours of self-driving tourists, cyclists and runners.
"The speed limit of the whole road is 30 kilometers an hour, which allows tourists to have close contact with the scenery and local life," Gao said.
The road is shaded by trees like pines, plums and Chinese Scholar trees. Under the trees are bushes of roses.
With deep breaths, tourists can sense the air quality is much better than in the city.
A highlight of the road is about 1 km away from Wangjiashan, where there is a red-blue branch section called Rainbow Road.
"Also known as Hairpin Bend, the section is designed to the standards of international highway cycling races," Gao said.
The executive talked about the unique features of the cycling road."The road has a grainy surface as it has ceramic granules underneath,"Gao said. He explained that such a design aims to increase friction and slip resistance.
For local residents, the road is significant as it can help in local economic growth and poverty reduction.
In Wangjiashan village, local residents make a living by growing and selling fruit.
"Our village used to be connected to the city center of Taiyuan by two roads. The nearest was a dirt road without lighting, and the other one with better conditions required a longer journey," said Li Jianjun, a local farmer.
Now the East Mountain Sightseeing Road can better serve residents' need to travel."It takes only 20 minutes to travel to Taiyuan on the new road," Li said.
In addition to the main stretch, there are several branch roads to nearby tourist attractions.
With improved road connectivity, the local people are in a better position to open tourism-related businesses.
Zhang Fang, a local villager who runs a bed-and-breakfast in the West Mountain area, said she is currently planning to come back to open a B&B business in her home village.
"My business will consist of three cave rooms for accommodation, a well-shaded courtyard and a nearby farm with vegetables, fruit trees, chickens and geese," Zhang said. She added that it will be a place to offer genuine rustic experiences to tourists.
Dianzidi, another village along the road, was a People's Liberation Army base. It was used in a decisive battle during the civil war in the late 1940s.
"We planned to develop a 'Red tour destination'-Chinese revolution-related tourism-in our village. However, poor road connectivity hindered development," said Shi Goushuan, Party secretary of the village.
"It was even difficult for locals to sell produce outside the village. We had to use horses and bicycles to transport goods," Shi added.
"I'm glad to see our village is a stop on the new East Mountain Sightseeing Road, which brings in more tourists and produce dealers," the village official said.
According to Gao of China Railway No 3 Engineering Group, the East Mountain Sightseeing Road will benefit the area's major tourist destinations. These include Caiwei Villa, Tianlong Mountain, Gengyang Forest Park and Jingyin Buddhist Temple.
Guo Yanjie contributed to this story.
By YUAN SHENGGAO
(责编:麻潞、赵芳)