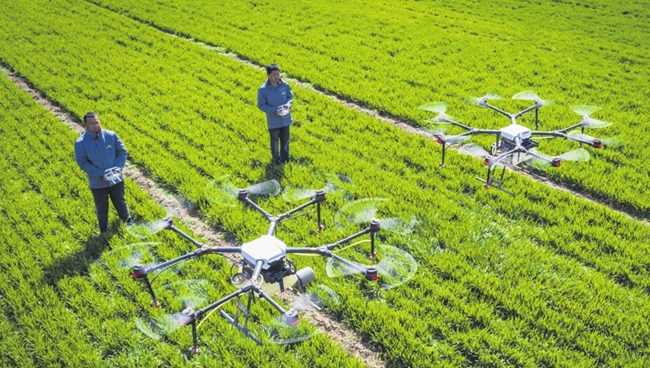 Technicians guide drones to spray fertilizer on a wheat farm in Yicheng county. HU BO / FOR CHINA DAILY
April used to be among the busiest farming periods in Shanxi province as the wheat and other crops are about to put forth ears and farmers have to water and fertilize their plantations.
But farmers in the village of Futu in Yicheng county are being freed from strenuous manual labor thanks to the use of farming machines and services provided by local cooperatives.
While a farm owner stood watching, technicians from local farming company Xinxiangfeng Agricultural Technology used remote controls to guide four drones in spraying fertilizer over crops measuring about 2 hectares.
The job was done in about 15 minutes and the technicians quickly moved to another wheat farm for the same task.
Li Xuefeng, head of the company, was also on-site to study the effect and efficiency of drone spraying.
"This is the first time we've used drones to spray fertilizer on farms and the effect meets our expectation," Li said.
"It takes an entire day for a farmer to spray fertilizer on less than 1 hectare of land," Li said. "The use of drones can increase the efficiency by 20-30 times and fertilizers can be applied to crops more evenly."
Xinxiangfeng is an entity that integrates a number of rural cooperatives in Yicheng county. It leases farming machines to farmers and offers comprehensive services ranging from plowing, sowing, irrigation, crop care and harvesting to grain storage and sales.
"The services of the cooperatives can be bought at very competitive prices and their work efficiency is much higher than individual farmers," said Han Jiafa, a farmer in Beijiang village in Yicheng. "We can entrust all the farming work to the cooperatives and find jobs other than farming to increase our revenues."
To date, there are 24 cooperatives in Yicheng that offer full-range farming services. As these cooperatives have been commissioned by farmers to take care of all the farming processes on their lands, they are usually called "farming nannies" by locals.
The farming nanny practice is commonplace in the rest of Shanxi province.
Wang Haisheng is a farmer in Shengli village, Shouyang county. He began to entrust his 1.3-hectare farm to a local farming nanny cooperative in 2019.
"Other farmers have used the farming nanny services for several years," Wang said. "I adopted a wait-and-see attitude until I was convinced by my fellow villagers who had greatly benefited from such services."
One year later, he said he earned about 20,000 yuan ($3,084) in net income from his farm.
"The revenue is much higher than what you earn by laboring yourself throughout the year," Wang said. "And you are no longer worried about the weather, the pests and sales of grains."
Wang now works as an immigrant worker in East China's Jiangsu province, earning an annual salary almost twice the revenue of his farm.
Agricultural officials in Shouyang said that about 50,000 hectares of farms in the county have been entrusted to local farming nanny cooperatives.
In Shanxi province as a whole, there are a total of 32,000 similar farming nanny cooperatives across 94 counties and districts. They take care of 1.32 million hectares of farms for more than 1 million households, according to Liu Zhijie, chief of the Shanxi Department of Agriculture and Rural Affairs.
"Such cooperatives can play a crucial role in promoting agricultural modernization in Shanxi," Liu said.
In Shanxi, the small scale of farming operations used to be a major bottleneck that hindered agricultural modernization. It was impossible for individual farmers to equip themselves with a full range of farming machines, Liu explained. "The farming nanny cooperatives now offer an effective solution to this problem."
This Li Shu contributed to this story.
By YUAN SHENGGAO
(责编:雷昊、张临山)