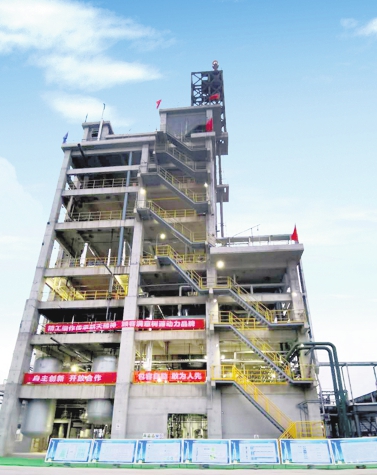 Jinneng Holding Group uses hightech furnaces to produce gas from anthracite.WANG CHUNHUI / FOR CHINA DAILY
Jinneng Holding Group, China's leading anthracite producer based in Jincheng city in the southeast of Shanxi province, has diversified its operations to meet the province's industrial upgrading and environmental protection standards.
Anthracite is the densest and purest form of coal and contains a high concentration of carbon and few impurities. The relative purity of anthracite means that it burns cleanly and has a high energy density compared with other types of coal.
In addition to its function as fuel for civil use and various industries including metallurgy, anthracite is an important raw material for making agricultural chemicals like synthetic ammonia and urea.
Jincheng has a proven anthracite reserve of 80.8 billion metric tons, accounting for about a quarter of the nation's total.
With a history of more than six decades, Jinneng Holding Group is one of the nation's leading enterprises in the areas of anthracite, coal-based chemicals, coal-bed methane and anthracite-fired power generation.
Its annual output of synthetic ammonia reached 41 million tons in its peak years, accounting for about 61 percent of the nation's total.
Responding to Shanxi's strategies for industrial upgrading and tightened regulations in environmental protection, the company began to diversify in 2003. It expanded its operations to new areas, such as research and development and coal liquefication and gasification.
According to Feng Zhen, the group's vice-president responsible for coal-based chemicals, the shrinking market of coal-based chemicals was another reason leading to the company's operational adjustment.
"The demand for anthracite-based synthetic ammonia has decreased substantially in recent years," Feng said. "Our output of synthetic ammonia dropped to 22.2 million tons in 2019, a 33.5 percent decrease from the previous year."
To overcome the challenge, Jinneng Holding Group has shifted its focus to coal gasification to meet the country's growing demand for gas.
Feng, who is also the president of the research institute of Jinneng Holding, said the company now owns equipment and technologies for coal gasification.
The company has cooperated with the country's leading research institutions in this area. As a result, Jinneng has developed three kinds of furnaces for gasifying different varieties of coal and anthracite.
"Using such furnaces, the production of gas features higher coal-togas transformation efficiency, better quality and lower emissions," Feng said. He added that the environmental benefit is most remarkable as the emissions are much lower.
The company has made huge investments in gas liquefication for better transportation and storage, according to Zhang Jinqiao, assistant to the board chairman of the group.
He said the company has invested about 33 billion yuan ($5.03 billion) in building nine large liquefied gas storage facilities in the rest of the country.
Jinneng Holding has also extended its operations to such fields as equipment manufacturing, gas-fired power generation and using anthracite to produce new materials including graphene, hydrogen and chemical fibers, according to Zhang.
Li Yali contributed to this story.
By YUAN SHENGGAO
(责编:乔慧、常慧忠)