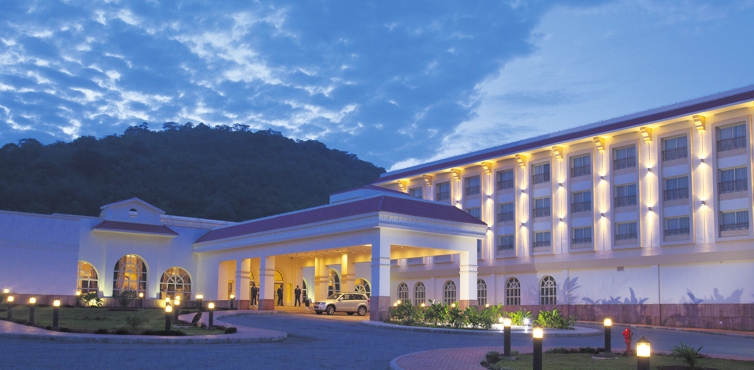 Hotel Libya in Bangui is among those built by SCIG International Cooperation. PROVIDED TO CHINA DAILY
A group of workers from Shanxi province are busy constructing a solar power plant in Danzy village in the Central African Republic, which is to supply electricity to the country's capital of Bangui some 18 kilometers away.
The project is being built by the International Cooperation Corp of Shanxi Construction Investment Group, or SCIG International Cooperation, a major overseas construction company based in Taiyuan city.
"The Danzy voltaic plant is another milestone project that SCIG International Cooperation built in the Central African Republic, after the regional headquarters of the Bank of States of Central Africa in Bangui and Bimbo Hospital," said Wang Chongjun, board chairman of SCIG International Cooperation.
The executive added that the Danzy plant is also the first solar power plant in the Central African country.
SCIG International Cooperation is Shanxi Construction Investment Group's subsidiary for overseas operations.
It has been active in overseas markets since the 1980s, with operations covering such areas as construction project contracting, cross-border finance, international trade and labor services.
Over the past few decades, the company has completed more than 100 projects in 53 countries across Asia, Africa, Europe, Latin America and Oceania.
The company sees the Central African Republic as its major market.
"The Central African Republic is one of the least-developed countries in the world after decades of wars and conflicts. We regard it our social responsibility to help the country recover and grow," Wang said.
The executive noted that a lack of electricity is a major bottleneck for the country's development. "Many of the towns and villages have no access to electricity and power failure happens frequently even in the national capital of Bangui."
He said the voltaic power plant in Danzy is expected to help solve this problem.
"We are trying to introduce clean energy like solar and hydraulic power to this country, helping improve the living environment for locals while addressing their pressing demand for electricity,"Wang said.
He predicted that the plant could supply 38.35 million kilowatt-hours of electricity in the first three years after its completion.
Wang said SCIG International Cooperation is now a highly recognized company in the Central African Republic.
The regional headquarters project of the Bank of States of Central Africa was ranked as one of "the world's best projects in 2020" by the Engineering News-Record magazine based in the United States in August this year.
Guo Yanjie contributed to this story.
By YUAN SHENGGAO
(责编:乔慧、常慧忠)