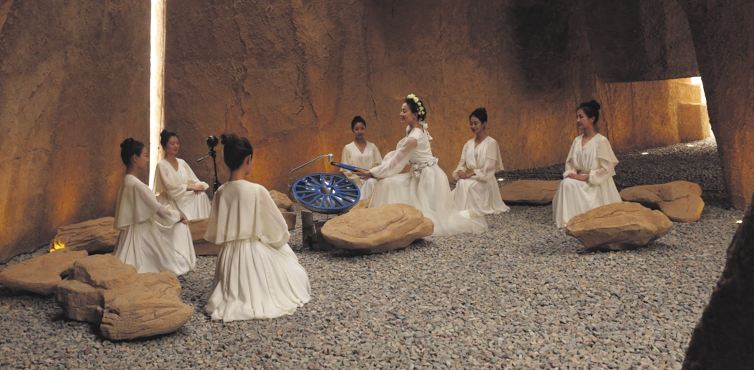 Volunteers light a torch at the Xihoudu site for the second Nation al Youth Games held in Shanxi in 2019. SHI XIAOBO / FOR CHINA DAILY
In a museum in Xihoudu, a village by the Yellow River in Ruicheng county of Shanxi province, local tour guide Liu Xixi leads tourist groups to exhibits that may just point to the earliest history of human activities in China.
On display are a variety of tools made of stone, which Liu explains are no different to the prehistoric exhibits found in any other museum.
"The stone tools, including cutting and grinding tools, as well as deer horns and other animal bones with cutting marks, were discovered during an archaeological excavation in the early 1960s,"Liu said."Carbon-14 dating reveals that they were made by humans 1.8 million years ago."
Fan Wenqian, an archaeologist and deputy dean of Shanxi Museum, wrote in an essay that they might be the earliest man-made tools discovered in the world.
But this is not the only potential "world first" at this archaeological site. Fan went on to say that another significant discovery is scorch marks of fire on animal bones, which might also be another world first in terms of discovery.
Tour guide Liu leads visitors to exhibits of mammoth tusks and the bones of other animals, describing each's distinguishing features and characteristics.
"The colors on the bones are not tints of minerals-they are evidence of the intentional use of fire 1.8 million years ago," Liu said.
At an exhibition hall in the village, visitors are able to experience life in prehistoric times via the use of modern technology such as multimedia and augmented reality.
The exhibition features a number of top Chinese archaeologists, including Jia Lanpo, Wang Jian and Wang Yiren, who contributed to the discovery of the site.
Liu said a special tribute should be paid to Xue Junhu, an ordinary villager in Xihoudu.
Xue was an accountant in the village in the early 1960s and was entrusted by the archaeologists to protect the precious site.
Xue shouldered the responsibility as a guardian for the archaeological site for about six decades, without asking for a penny for payment.
"In addition to those discovered by archaeologists, a great number of the exhibits here in the museum have been collected by Xue from the sandy valleys and neighboring hills," Liu said.
Li Yali contributed to this story.
By YUAN SHENGGAO
(责编:乔慧、常慧忠)