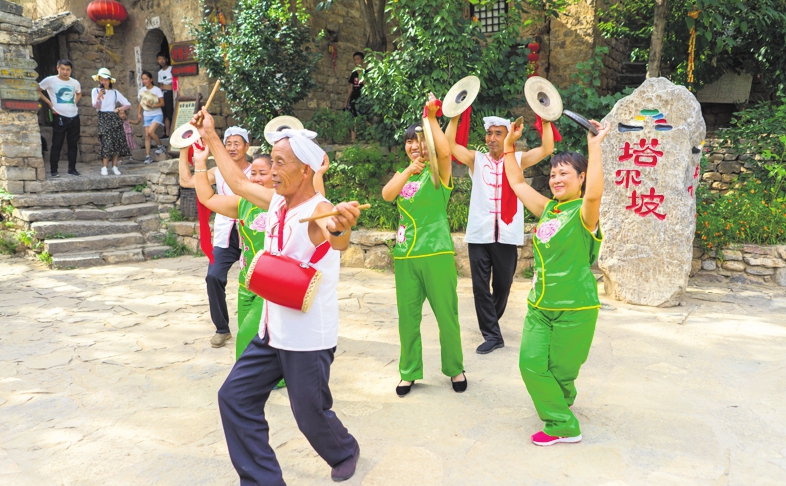 Locals in Ta'erpo perform flower drum dance to entertain tourists.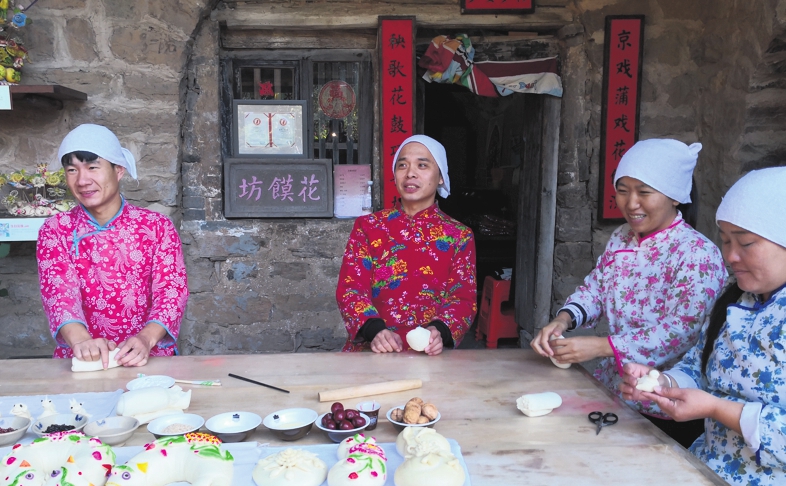 Handmade food like steamed bun and noodle is among the simple and yet unique treats that Ta'erpo villagers offer to tourists. GAO XINSHENG / FOR CHINA DAILY
Dong Fuguang, a Shanxi native who has settled in Suzhou, Jiangsu province for about 20 years, returned to Shanxi on Nov 20 for the first time in two decades. During his trip, he was in his home province not as a local, but as a tourist.
As he approached his old home in Ta'erpo village in Xiangning county, he was welcomed by scenery from his childhood.
"The old streets with ancient buildings and slab stone pavements are still there," Dong said."And the singing of folk songs comes from some of the residences, which you can't help but sing along with."
Dong explained that most Chinese people have ancestral roots in rural areas. "A rural tour brings people back to their hometown, regardless of whether the destination is their birthplace or not."
He said a successful rural tour destination should have elements to evoke one's sense of "yesterday once more", including familiar scenery, a folk song and dance and handmade food.
In Ta'erpo, Guang Shuiying is a folk singer. The 67-year-old woman and her husband are among the hospitable residents in this ancient village with a history of about 1,500 years. They treat tourists with simple offerings like an old song, a bowl of handmade noodles or just a casual chat.
Ta'erpo is a part of the Yunqiushan Scenic Area in Xiangning county in Linfen city. The scenic area has 11 similar historical villages which showcase cultures and traditions in rural China that have been mostly lost in modern times.
In the villages, tourists can experience lives that seem unchanged for centuries: they can watch old-style weddings, rustic shadow puppet plays and old techniques of weaving, dyeing and farm-tool making.
While curing tourists' homesickness, rural tourism is also an important means for local residents to overcome poverty by increasing their revenues.
Li Xiaomao, 60, is a flower drum dancer in Ta'erpo. He performs to entertain tourists and earns about 2,000 yuan ($300) a month.
"I did farming in the past but the laboring job couldn't really lift me out of poverty," Li said. He added that the rural tourism industry now offers him a well-paid job that supports his livelihood.
In Shanxi, not every village has ancient cultural attractions like Ta'erpo. However, even the most commonplace and remote villages have their own unique offerings for tourists.
Xinzhuang in Loufan county is a remote village. It has recently become a tourism destination for children and adults.
After a day's trip in the farms and a campfire party in the evening, Zhang Yixuan, 10, and his parents weren't quite ready to sleep. They had one other fun activity to check off their list.
The family went to a grassland near their lodge and laid down to observe the stars in the sky.
"The Great Bear, the Scorpio and the Milky Way... Mom, there are so many stars in the sky," the boy shouted with excitement. His discoveries were the ideal wrap-up to the day's trip.
Several years ago, Xinzhuang was a typical impoverished village in Shanxi province. Most of its laborers worked outside, leaving old people and children behind.
The county government launched a targeted poverty-relief project for the village four years ago by developing organic farms to help residents increase their revenues.
The organic farms also offered a destination for tourists from neighboring cities to pick up or buy organic farm produce.
When tourists came and stayed overnight in the village, they were amazed by the night sky. They claimed they observed stars they had never previously seen.
Local officials realized that the area's location, far removed from bustling cities, was a precious resource for attracting tourists. Its transparent air and its night sky, unpolluted by smog or lights, made it a one-of-a-kind destination.
The villagers' committee also developed a unique tourism project, called Meimei Commune, for school-age children.
Meimei Commune is a project that combines education, research, sightseeing and farm-life experience. It has been well received by children in neighboring cities, local officials said.
According to the villagers' committee, the emerging organic agriculture and tourism industries brought an average of 2,000 yuan in added revenue to each household last year.
By YUAN SHENGGAO
Guo Yanjie contributed to this story.
(责编:麻潞、常慧忠)