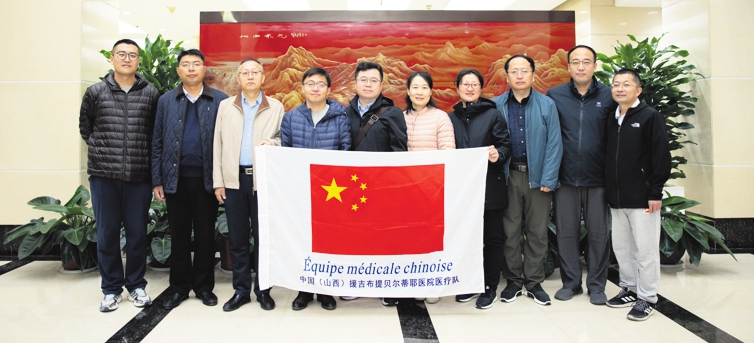 Members of the Shanxi medical aid team pose for a photo before left for Djibouti on Nov 14. WU GUOQIANG/FOR CHINA DAILY
A 12-person medical aid team from North China's Shanxi province to the African country of Djibouti left the provincial capital of Taiyuan on Nov 14.
Besides a translator and a chef, the other team members are medics from the Shanxi People's Hospital in Taiyuan. They will be engaged in such fields as surgery, medicine, obstetrics and ophthalmology on the trip.
The group's trip was originally scheduled to begin in March but was delayed due to the COVID-19 pandemic and other issues. The team members took advantage of the extra time to better prepare for their journey.
"During the long waiting period, our team members studied French at Shanxi University," said Liu Wencao, head of the medical team. French is one of the official languages in Djibouti.
Liu said the training would help members of the aid team to better integrate with local society.
The team also took part in the control and prevention of novel coronavirus at home in China, giving them an experience for what might await them in Djibouti.
"The COVID-19 pandemic is still serious in Africa with the numbers of confirmed cases continuing to grow," Liu said."I hope our experience in domestic epidemic control can help us better serve patients in the African country."
This was the 20th group of medical workers that Shanxi has dispatched to Djibouti since the 1970s.
Since 1975, Shanxi has dispatched a total of 58 teams and 1,254 medical workers to countries across Africa. Those include Djibouti, Cameroon and Togo, in which the teams have helped locals fight various diseases including Ebola, malaria and hemorrhagic fever.
Doctors from Shanxi have also contributed to the local healthcare sector by sharing their experience and training local medical workers.
Since March, when the COVID-19 pandemic began to spread to Africa, the Shanxi medical workers stationed in African countries have made a special contribution to local epidemic control and prevention by sharing experiences and solutions from Shanxi and China. Their efforts and dedication have been recognized by appreciative local residents, according to Lian Yuesheng, deputy chief of the Shanxi Health Commission.
At the departure of the 20th medical team to Djibouti, Lian told the members to better adapt to the local environment and take care of themselves by implementing strict protective measures.
The Shanxi medical teams are an important part of China's medical assistance to Africa.
China began to dispatch medical teams to Africa in 1963. During the 56 years from 1963-2019, more than 26,000 Chinese medics had worked for their assistant missions in Africa, serving a total of 280 million local patients.
By YUAN SHENGGAO
Guo Yanjie contributed to this story.
(责编:麻潞、常慧忠)