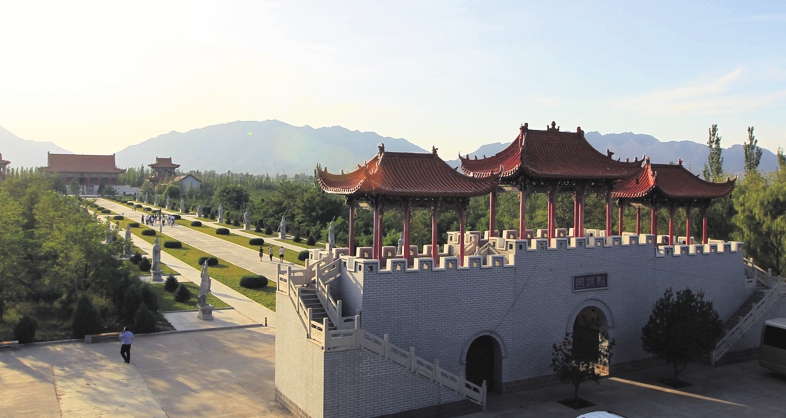 The Jinshatan scenic area, including memorial temples and other monuments, is a major destination in Huairen for sightseeing, and a base for patriotic education. YU SUWEN/FOR CHINA DAILY
Plenty of places in China are named Jinshatan, or golden sand beaches.
Most of the golden sand beaches are seaside resorts on the eastern coast of China. But the one in Huairen city in the north of Shanxi province, despite being a tourist attraction, has nothing to do with seaside tourism.
Jinshatan, a sandy river beach and the name of an ancient town in Huairen, is remembered by the Chinese people as the site of a renowned battle that made a military general a household name for about 1,000 years.
In its more than 3,000 years of history, Shanxi had been a cradle for Chinese civilization but also a center of conflict due to its vicinity to the northern nomadic regions.
Among the many battles on the land, the battle of Jinshatan is much memorialized as the stories of General Yang Ye and his family have been at the center of many legends.
Yang, a native of Shanxi, devoted his life to protecting his homeland during the turmoil of the early Song Dynasty (960-1279).
In a major war between the Song Dynasty in the south and the nomadic Liao Dynasty (916-1125) in the north, the Song army was defeated, and General Yang was captured by the Liao army in the Jinshatan area.
The rest of the story revolved around Yang's great faith in his nation and the undaunted determination he and his entire family devoted to the nation.
When Yang was captured, three of his sons-all warriors in the army-died in the same battle. Yang himself was reluctant to surrender so he died after several days of a hunger strike.
The rest of his sons almost all died in other wars that followed, leaving their widows and other female family members to continue their mission to protect the country as generals and warriors.
The legend of Generals of Yang's Family, sometimes referred as Female Generals of Yang's Family, has been among the most popular for Chinese audiences.
Performing arts relating to the legend, presented in the forms of operas, ballad singing and storytelling, made it to the national list of intangible cultural heritage in 2008.
To promote the Yang family's spirit of loyalty, patriotism and dedication, the government of Huairen has developed a scenic area around Jinshatan.
Covering more than 200 hectares, the scenic area includes memorial temples of the family, statues of its generals, and a large Buddhist temple said to be the place where one of Yang Ye's sons served as a monk.
The site is a major destination in Huairen for sightseeing, and a base for patriotic education.
By YUAN SHENGGAO
Li Yali contributed to this story.
(责编:麻潞、赵芳)