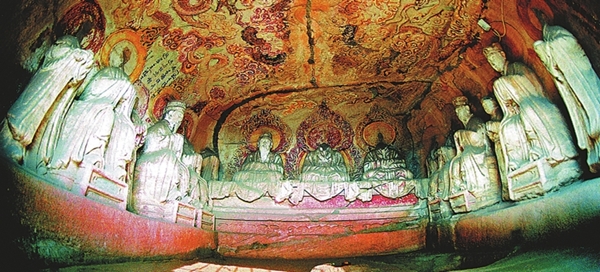 Longshan Grottoes are the largest and bestpreserved Taoist cave shrines found in China.XING AITIAN/FOR CHINA DAILY
The mention of grottoes art reminds people of famous Buddhist grottoes like Yungang in Shanxi province, Mogao in Gansu province and Longmen in Henan province.
While these grottoes represent outstanding Buddhist cave art in China, the value of cave art featuring China's native religion of Taoism has often been ignored.
But a visit to Longshan Mountain in the suburbs of Taiyuan, the capital of Shanxi province, can be a surprise to those who like to explore the history of Taoist arts.
Longshan, in the southwestern suburbs of Taiyuan, is renowned among local tourists as a site for sightseeing and relaxation.
But for cultural researchers, the significance of Longshan is that it constitutes a core part in the feng shui of Taiyuan.
Feng shui is the ancient Chinese science of studying the environment in relation with a residence and people's fortune. When building a residence or a city, the ideal feng shui layout is to have a "blue dragon (mountain)" in the left, a "white tiger" in the right, a "red bird" in the front and a "black tortoise" in the rear.
Longshan, which means dragon mountain, is also called Qinglongshan, or blue dragon mountain, by locals, showing its importance in feng shui for Taiyuan.
A site with good feng shui is favored by Taoism believers who like to select a place for meditation and worshipping their deities.
Longshan has been a favored home for Taoists for centuries.
Tourists who want to discover the sites of Taoist activities need to walk through the forests and go up to the middle of the mountain, where the area's largest Taoist temple, Haotian Guan, is in sight.
And Longshan Grottoes is just to the east of the temple. With nine caves, the grottoes are the largest and best-preserved Taoist cave shrines found in China.
Records show that construction of the grottoes started in the Northern Wei Dynasty (386-534) and ended in the Ming Dynasty (1368-1644).
There are 66 stone statues in the caves, representing various Taoist deities. There are also sculptures of deities and auspicious animals on the roofs and walls.
Ge Haijiang is a researcher engaged in the study and protection of the grottoes for decades. He pointed out the difference between the Taoist and Buddhist cave arts.
"All the statues and sculptures in Longshan Grottoes were created in a simple, solid and dignified style with clothing and ornaments showing more local, ancient Chinese characteristics," Ge said."This is a style totally different from that of the Buddhist grottoes."
He said judging from the inscriptions on the walls in some caves, the statues or sculptures can be found today were created during the Yuan Dynasty (1271-1368).
"And the human figures show aspects of life in the Yuan Dynasty, making them valuable resources for studying Taoist grottoes during the period," Ge said.
Xing Aitian contributed to this story.
By YUAN SHENGGAO
(责编:雷昊、赵芳)