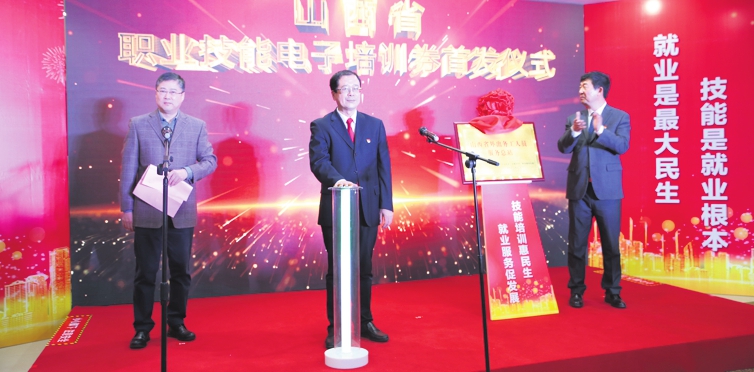 hen Zhenliang (center), chief of the Shanxi Department of Human Resources and Social Security, launches the training coupon issuance ceremony. WANG YANHUI / FOR CHINA DAILY
Residents in Shanxi aiming for vocational training will get a substantial subsidy from the government as it released the first batch of training coupons valued at a total of 1 billion yuan ($153 million).
Chen Zhenliang, chief of the Shanxi Department of Human Resources and Social Security, presided over the ceremony for the issuance on March 25.
"The value ranks Shanxi first in the country in the issuance of vocational training coupons this year," Chen said.
The online coupons are available through three major e-government smartphone apps in Shanxi.
Chen said the launch of the coupons shows that Shanxi authorities want to use vocational training as a means of boosting employment and helping Shanxi's high-quality development with better human resources.
Chen Jie, another official of the department, said a lack of sufficient, high-quality human resources was one of the major reasons hindering Shanxi's development.
"In 2017, the number of employees with skill certificates accounted for about 15 percent of the total payroll in Shanxi, nearly seven percentage points lower than the national average," Chen Jie said."With local authorities' emphasis on vocational training, the ratio increased to 22.4 percent in 2020."
Yang Wenwen, who comes from an impoverished family in Linxian county, Lyuliang city, is one of the beneficiaries of the province's recent efforts to help residents find better jobs through training.
Now with a year's experience working in Japan as a nurse, Yang said she is proud to be able to serve clients not only in China but in a foreign country.
But she was not so confident three years ago. She had been trying to find a job in Lyuliang but was turned down by several employers.
Yang was then told that a number of vocational schools in Lyuliang train nurses. Graduates from these schools are attractive candidates in the job market.
Yang entered one of the schools in 2018 and got a nurse's certificate several months later. Afterward, she attended a language school to study Japanese. Later, she became one of the first group of Lyuliang residents to go and work in Japan.
Over the past three years, more than 3.5 million people in Shanxi have taken part in various training sessions, according to the Shanxi Department of Human Resources and Social Security.
The department's officials said Shanxi will invest about 2 billion yuan in vocational training this year and about 2 million people will be trained.
Wu Jia contributed to this story.
By YUAN SHENGGAO
(责编:麻潞、赵芳)