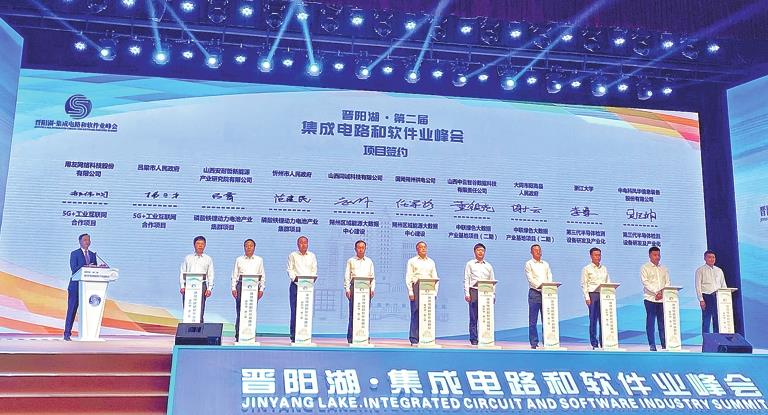 Business representatives attend an agreement signing ceremony at the second Jinyang Lake Summit. Wei Bo / For China Daily
More than 1,000 experts and industry insiders attended the second Jinyang Lake Summit for the Integrated Circuit and Software Industries held from May 11-12 in the Shanxi provincial capital of Taiyuan,sharing their insights into the latest industrial trends.
Jiang Dayong,vice-president of Huawei's Kunpeng computing business,said he noticed the latest information technologies,including 5G,big data and cloud computing,are playing a crucial role in assisting Shanxi's innovation-driven and high-quality development.
During the first Jinyang Lake Summit held in September last year,Huawei signed an agreement to build its core big data center in Shanxi.
At this year's summit,Huawei announced further collaboration with Shanxi by unveiling the Huawei(Taiyuan)Software Academy,which is designed to train software professionals in the province.
As major parts of the IT industry,the software and IC sectors have maintained robust growth in Shanxi.The software sector,in particular,reported double-digit increases in terms of business revenue,profit and employment in 2020,according to local officials.
At this year's Jinyang Lake Summit,agreements on 91 investment projects were signed,with combined investment of 116.5 billion yuan($18.17 billion).
In addition to forums and networking events,the summit featured an exhibition and releases of new products.
Renowned Chinese tech companies including Huawei,China Electronics Technology,iFlytek,ZTE,Yonyou and Tsinghua Unigroup,as well as local IT companies like Shanxi Cloud Era Technology and Shanxi Baixin,displayed their latest products,services and solutions at the exhibition.
Over the past two years,the Jinyang Lake Summit has developed into a major IT gala in Shanxi,according to Liu Yong,deputy chief of the Shanxi Department of Industry and Information Technology.
The 2020 event was attended by more than 600 delegates and saw the signing of agreements on 131 projects with total investment of 80 billion yuan,according to Liu.
In addition,seven research institutions were launched at the 2020 summit,covering such fields as semiconductors,IC,software and information services.
"From 600-plus participants last year to more than 1,000 this year,from 80 billion yuan to 116.5 billion yuan in investment value,the Jinyang Lake Summit is showing the growing potential of Shanxi's IT industry,"Liu said.
Shanxi's software industry reported a year-on-year business revenue increase of 14.03 percent in 2020 and 11 companies each registered business revenue of more than 100 million yuan.
Lou Yangsheng,Party secretary of Shanxi,said at the second summit that the province plans to develop the IC and software industries into sectors with strategic importance in the years to come,as they are expected to play a crucial role in Shanxi's economic transformation.
Wu Jia contributed to this story.
(责编:张婷婷、赵芳)